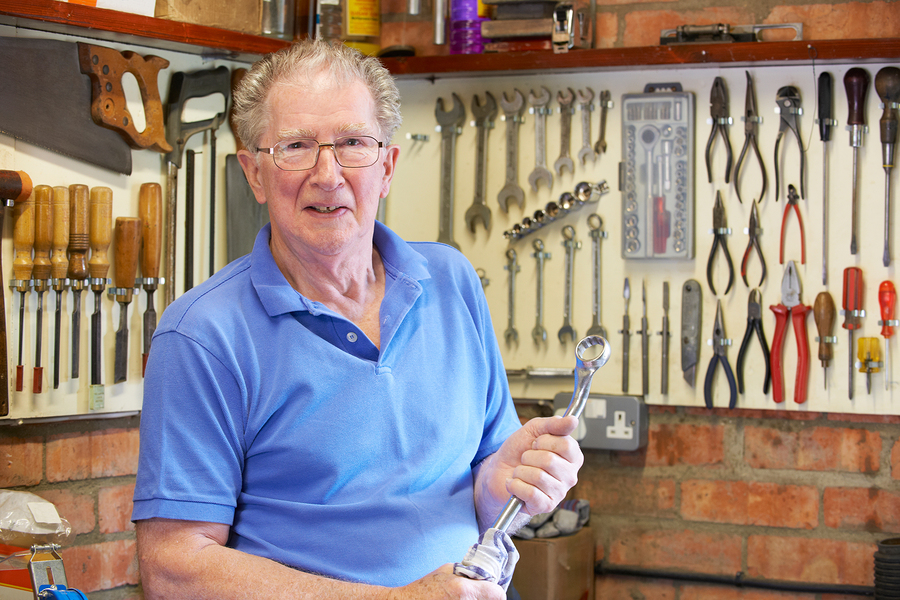 It is the perfect time of year to take care of cleaning and organizing the garage. It won't be long before you are bringing in the outdoor furniture and toys to prepare for winter (that's okay, you don't have to think about that right now). Right now is the time to get your garage ready to house those outdoor toys, garden supplies and maybe even save enough space for your car! Our team at Greenwood Hardware has some great ideas to help you get the dreaded task of garage organization done in a jiffy.
Peg Boards
Peg boards in the garage are very common, but you can make sure everyone in your house is on the same page by using some stencils or freehand painting the outline of the various tools that are to be stored on the boards. This is a fun way to add color to the garage and can go a long way to keeping it organized. You will never have to wonder where the hammer is again.
Sliding Walls
This is a project that will take a little more time, but it is a fantastic way to conceal your valuable tools and gear while leaving your garage appearing much cleaner and organized. You can use those all pallets you have been collecting. Use a saw to cut the planks from the pallets. Create a frame with 2x4s at the desired height of your sliding wall. Nail the planks horizontally to create a wall. Purchase rail hanger hardware to hang the walls from the ceiling in your garage. You can also use sheets of plywood for a quicker project. Paint the wood or leave as is.
Large Hooks
Those bike hooks aren't just for bikes. Use two or three lined up on a wall to store that patio umbrella, shovels and other long items that would normally get propped up in a corner somewhere. This keeps them off the ground, but still easily reached when you need them.
Keep it Together
One of the most important rules of organizing is to keep like items together. Keep all your holiday decorations, tools or outdoor toys in one area. This will save you time when you are looking for a particular item. Use large totes and plenty of shelving with labels to make it even better.
Cleaning and organizing your garage is certainly a task that will require a little hard work, and you will have to commit to lightening the load, but once you do, you will be amazed at how good it feels. You won't be embarrassed to open the garage door when the neighbors are out and about. Head into Greenwood Hardware and pick up everything you need to make your garage neat and tidy again. Stop on in, or contact us today!