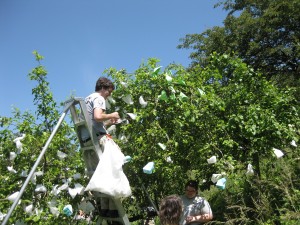 With Spring here and the trees in full bloom, it is time to start thinking about what you can do to make the Pacific Northwest a better place to live. One way to do that is by limiting the amount of waste that is produced. Another way is helping your neighbors have healthy meals, even if their budgets don't allow for things like fresh fruit. Apple trees are plentiful in the Pacific Northwest, and they can thrive—when they are properly taken care of. Our team at Greenwood Hardware has partnered with City Fruit to encourage our neighbors to take care of the apple trees in our neighborhood.
In recent years, 12,000 pounds of fruit was added to waste heaps and composted. It is a staggering amount that was completely preventable. In 2014, City Fruit managed to harvest 28,000 pounds of fresh fruit, with the majority being donated to emergency food programs. Imagine if the 12,000 pounds of fruit that was inedible could have been saved.
With the installation of pest barriers, that is a real possibility. The apple maggot and coddling moth are often to blame for making the fruit inedible. By putting the pest barriers over the small fruits in the spring, it can ensure the crop in the fall is edible. This is a desirable method because it does not involve the use of any chemicals. It is truly a green solution!
The bags can be picked up for free this Spring. They are completely organic and will not damage the fruit or the tree. It is fairly simple to tie the small bags over the fruits. By taking care of fruit trees, you can help eliminate thousands of pounds of waste while feeding people in need in the Seattle area. Visit Greenwood Hardware today to pick up your organic pest barriers and do what you can to help save Seattle's apples.