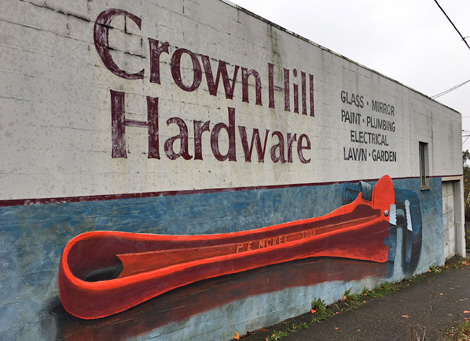 A successful neighborhood hardware store is one that stocks items that are going to be useful to the folks living in that particular area. When you don't want to drive out of your way to get what you need and prefer to shop local and support your local businesses, your friendly neighborhood store, like Greenwood Hardware, is an option. It is with great sadness we are saying goodbye to one of our fellow neighborhood hardware stores.
Crown Hill Hardware has been a staple in the community for more than a hundred years. Due to a death in the family, the store will be closing its doors for good, which will leave a huge hole in the neighborhood. The store was known for its knowledgeable staff and willingness to help you find what you were looking for. Whenever someone in the community needed screening material, they knew they could rely on Crown Hill hardware store to have everything they needed to fix up their old, tattered and battered screens without having to head out to a big box store and getting lost in a sea of everything. Mr. Palmer's store was always very helpful at taking care of the window screens for their customers as well. You could walk in with a worn screen and leave with one that looked like new for a fraction of the cost.
Our neighbors will certainly be sad to see a staple in the community shut down, but you can still find the hardware items you need just down the road. Greenwood Hardware is a friendly neighborhood store as well and caters to our local neighborhood by stocking things that are actually useful and needed on a daily basis, including window screens so you can enjoy the beautiful Pacific Northwest weather. Stop by and see what the store has to offer and introduce yourself to our friendly staff. Come on in, or contact us today.