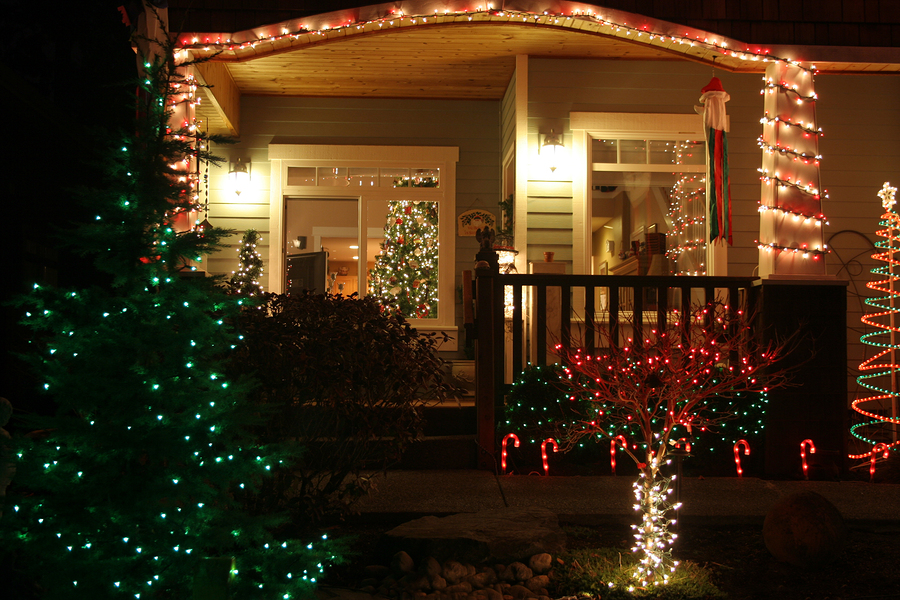 It's that time of year where you can try and outshine your neighbors with the best display of lights in the neighborhood. It's fun to decorate the yard and house with lights that catch the eye and make you feel a little more festive. Our team at Greenwood Hardware has some tips to help you create the most eye-catching light display that will impress your neighbors and make you proud.
Make a plan for your lights. This will ensure you have enough lights for the job. Decide if there is a color or theme you want to go with. Do some measuring and determine how many feet of lights you will need.
Decide how many lights you want in a section. Are you going for simplistic and creating nice, clean lines or do you want to dazzle? The standard rule is 100 lights for every 1.5 feet of tree. If you are decorating shrubs, you can follow that rule or double it if you want a bright display.
Consider using LED lights for a bright display that is going to cost you far less than the standard light strands.
Check your lights before you hang them! There is nothing worse than going through the hard work of wrapping a tree with lights or hanging them along your roof line only to discover the lights don't all work.
It is fairly easy to replace burnt out bulbs. Make sure you take a light from the strand with you when you go buy replacement bulbs. There are many different styles. It is often best to get bulbs that can slide into a socket.
Never use light strands that are frayed or have exposed wires.
Buy clips and hangers that make it a breeze to attach lights to gutters and fences.
Do not connect more than three strands of lights together. You will overload your circuit and risk damaging your lights, leaving dark spots in your display.
Only use extension cords outside that are manufactured with that purpose in mind. These are typically round cords.
Consider using a timer to turn your lights off and on at a designated time, so you don't have to worry about forgetting to turn them off when you go to bed.
Have fun decorating this holiday season and make sure to complement your neighbors! Head into Greenwood Hardware to pick up the things you need to make your holiday light display a hit. Come on in, or contact us today.