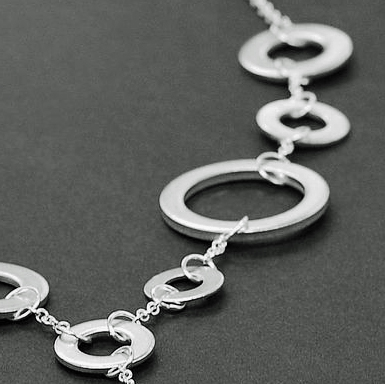 The hardware store may seem an unlikely place to visit when you are on a mission to do some crafting, but think again! There are endless possibilities when you allow your creative muse to lead the way. It goes beyond the endless paint color combinations. One very inexpensive and versatile material you will find in the hardware store is a washer. The small metal discs are a blank canvas, ready for you to transform into something fun and exciting. Our team at Greenwood Hardware has some fun ideas that involve washers and a little creativity. The kids will love these crafts as well!
Snowflake Coasters
This is a great project for the upcoming holiday season. Grab some washers in a variety of sizes, but all the same thickness. Arrange them in a cool, snowflake style pattern on a piece of wax paper or cardboard. Brush the design with clear, craft glue and let dry. For a little extra glitz, spray the coasters with a glitter spray paint. You could also transform your coasters into actual ornaments to hang on an outdoor or indoor tree.
Washer Necklaces
These are fun to make as inspirational jewelry. You can use paint or nail polish to personalize each washer with a name, a statement or even a date. Use leather string to hang the washers from. You can also make bracelets. This is a fun gift to give to a parent, with each child's name and birthday written on a washer and threaded on the string.
Wind Chimes
If you love the tinkling sound of metal blowing in the wind, a washer wind chime is a fun way to personalize your deck or patio. You can use a large metal ring or a cool piece of driftwood as the center for your chime. Tie some fishing line around a washer (painted or plain) and then tie another washer a few inches down. Create several strands filled with washers and attach to the driftwood or whatever you have chosen as your center. Hang the chimes and enjoy the sound of your creativity!
Flower Necklace or Wall Decor
Use washers in a variety of sizes to make a pretty flower to hang on your wall or around your neck. Arrange your washers and paint with a glitter paint or another pretty color that suits your style. Use craft glue brushed over the design to hold it together. Flip the design over and apply another layer of glue. Allow to dry thoroughly and mount on a wall or attach to a chain to wear.
There are plenty of awesome designs you can make with those inexpensive washers found at the hardware store. You could even spell out words with washers and mount on your wall or put inside a frame. Head into Greenwood Hardware today and pick up all the washers you need to create some spectacular designs. Stop on in, or contact us today!