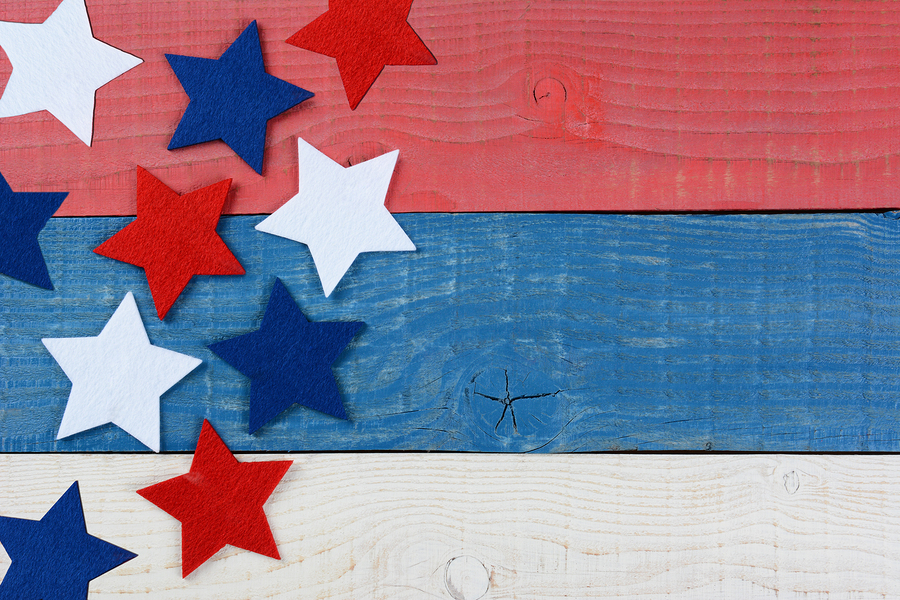 It is almost that time of year that all Americans love to celebrate with a backyard barbecue with friends and family — the 4th of July. As you plan your festivities for the holiday weekend, you will want to help get into the spirit of things with coordinating décor. You can put your unique stamp on things by creating your own backyard décor for your barbecue. You can find the tools you need and a little creative inspiration at Greenwood Hardware.
Hanging stars are a fun project for the kids. You can head to your local craft store to pick up some poster board or make the stars a little more durable with some cork board from your hardware store. The 12×12 inch sheets are perfect for making large, brilliant stars. Either draw your own star or print a free pattern off the internet. Use red, white and blue spray paint to paint your stars. You can add a little shimmer by spraying a glitter paint over the dried painted stars. Use some brass rings to hang the large stars around the yard or in your entryway.
Picnic tables are a staple in any backyard. You can make yours patriotic with the help of a few cans of spray paint. This is something that can be appreciated all summer long. Choose your red, white and blue colors and paint your table. Allow to dry before adding a sealant to keep your colors vivid all summer.
Buy a case of canning jars and spray paint them in coordinating colors. You could also tie ribbon around the jars to create a pretty vase for a beautiful bouquet of flowers or as a mini-flag holder in the center of your table. Add a candle to the jar to use as a pretty centerpiece for an evening barbecue.
A patriotic planter is another fun way to jazz up your deck or patio. Choose your paint colors and pick up a roll of masking tape. Wrap a layer of tape around the pot and paint your first color. Remove the tape from the middle section and paint your next color and so on. You can create fun designs or write your military family's names on each of the pots. If you don't have a spare planter, use an old coffee can.
Getting into the holiday spirit is fun and a terrific way to show your patriotic spirit. Head into Greenwood Hardware today to pick up the paint and other supplies you need to create a holiday masterpiece in your backyard. Come on in, or contact us today.