When the days turn short and the nights are long, you can find all the electrical products you need at Greenwood TrueValue to keep your lights burning and your appliances humming. We also carry all the fuses, junction boxes, switches and wire for a quick repair or a complete rewire for your entire house.
Are you thinking of setting up a home office or buying a new computer? Come on in and check out our selection of power strips to keep your data safe when line voltage fluctuates.
Want to save on your electric bill?  Greenwood True Value has a wide range of quality compact fluorescent and LED bulbs that keep your lights bright and your bills low.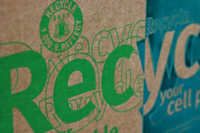 Greenwood Hardware is also a member of the
a group of retailers, repair shops, non-profit organizations, waste  haulers and recyclers that offer convenient options for recycling certain products that should not be disposed of in the trash. 
Not sure how to dispose of ______?  Go to King County's "What do I do with…?" page to find out where you can take it!