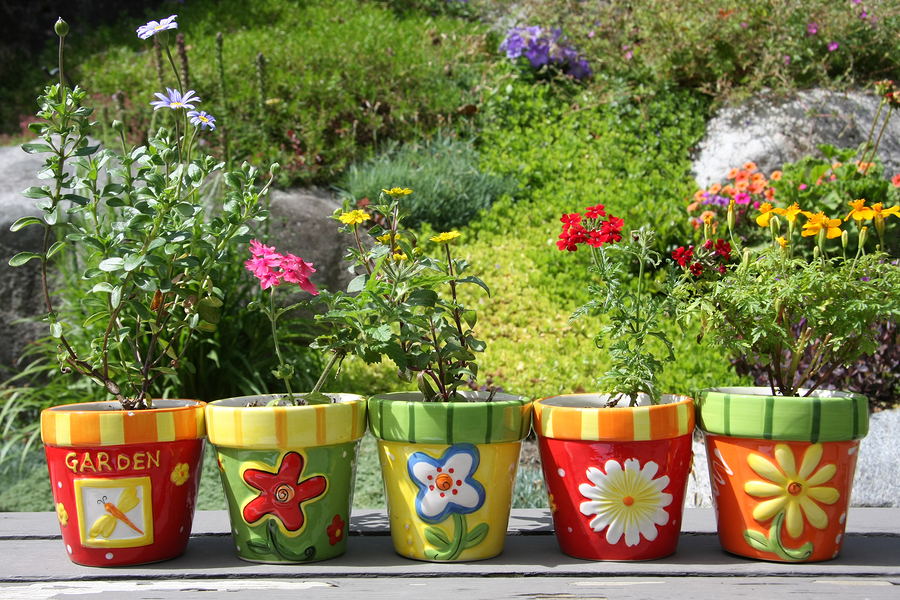 Having some potted plants on your porch, patio or deck is a great way to add a little color while creating a pretty picture. You don't have to stick with the standard potted flowers. You can get creative and add some fun flair to your containers a variety of ways. Our team at Greenwood Hardware has some fun design tips to help get your creative juices flowing.
Dazzling Pots
You can stick with the classic terra cotta pots that have been adorning porches and patios for years or put your own spin on those pots with some fun designs. Have the kids color some designs or if you like that old, rustic look, you can "distress" the pots. All it takes is a little paint, a little sandpaper, and a little elbow grease. You can, of course, paint your pots in a solid color as well. Bright colors or even metallic finishes are a fun way to liven up any space.
Plant Combos
You don't have to stick with all petunias or pansies in your containers. Have some fun and create a small garden all in one pot with tall plants, ground crawlers and a splash of color in the middle. You can choose to go with plants that contrast each other or pick a color scheme, like shades of yellow, green or red and keep it running throughout the plants you put into your container. The full pots create a remarkable display.
Veggie Garden
You don't have to stick with decorative plants. You can create a tiny vegetable garden in your container. Mix a combination of cabbage, spinach and some sweet peas for a colorful, yet functional container garden. Imagine stepping out the door and plucking fresh food right from your patio.
Herb Gardens
Herbs are often grown in containers that sit in a bright window in the kitchen. You can mix a variety of herbs in a single container to create a beautiful, aromatic display. Choose herbs that have scents that please you. Keeping some herbs, like peppermint, growing on the porch or patio can also help deter some of the pesky bugs that can ruin a perfectly good outdoor lunch. To release the scent, pinch a few leaves on each of the plants.
Head into Greenwood Hardware to pick up your plants and supplies to create beautiful container gardens to liven up your outdoor spaces. Come on in, or contact us today.