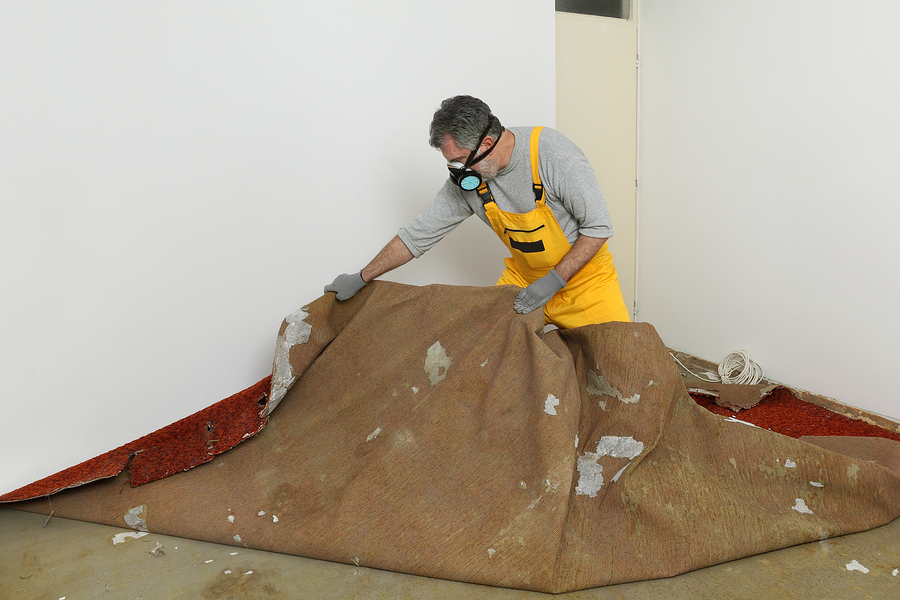 Getting new carpet is a really big deal and a very worthy investment for your home. Some people are getting rid of their old carpet and choosing to go with hardwood or vinyl floors, which is a popular trend in home building right now. Whether you are going to have new carpet installed or going with a wood or vinyl floor, you have to get rid of the old stuff. The folks at Greenwood Hardware understand the need homeowners have to save money where they can and knowing how to get rid of that old carpet can save you a couple hundred dollars in labor.
How do you do it?
It is a big job, but it can be managed with a few friends willing to give you a hand.
Prepare the Space
Your first step is going to be taking care of anything that may interfere with you pulling the carpet up. That means if you have any bi-fold closet doors or doors that open into the area, you will want to take them off. This way you don't damage them while you are ripping and tearing up the old carpet. Remove all the furniture from the area as well.
Gloves and Mask
You absolutely will want to have heavy work gloves on when you start pulling up carpet. Depending on what kind of carpet you are removing, it can rub your knuckles raw when you are pulling. The gloves also protect your hands from the sharp nails on the tack strips under the carpet. Old carpet can be really dirty! If you are sensitive to smells and dust, wear a mask to keep from incurring a coughing or sneezing fit.
Pick a Corner
You will want to choose a corner to start in. The corner furthest from the door is a good place. Use pliers to pull the carpet up a bit. The tack strips should be stuck to the floor. Use your hands to grip the carpet and pull back along one wall. As you are pulling, lay the carpet flat on itself so it is easy to roll up. You may need to use a razor knife to cut the carpet into strips to make it easier to pick up the carpet. Carpet is very heavy and trying to lift a huge roll is very difficult! It will also make disposal easier. You will want to repeat the process with the carpet pad. You can leave the tack strips where they are if they are in good shape. This can save you money as well.
Disposal
Check here or here to find out where you can dispose of your old carpet. If you are buying new carpet, the installers may be able to tell you where it is legal to dispose of your old carpet, or they may offer to dispose of it for you.
Head into Greenwood Hardware to pick up the tools you will need to remove your own carpet and save yourself some cash. Come on in, or contact us today.
Save
Save