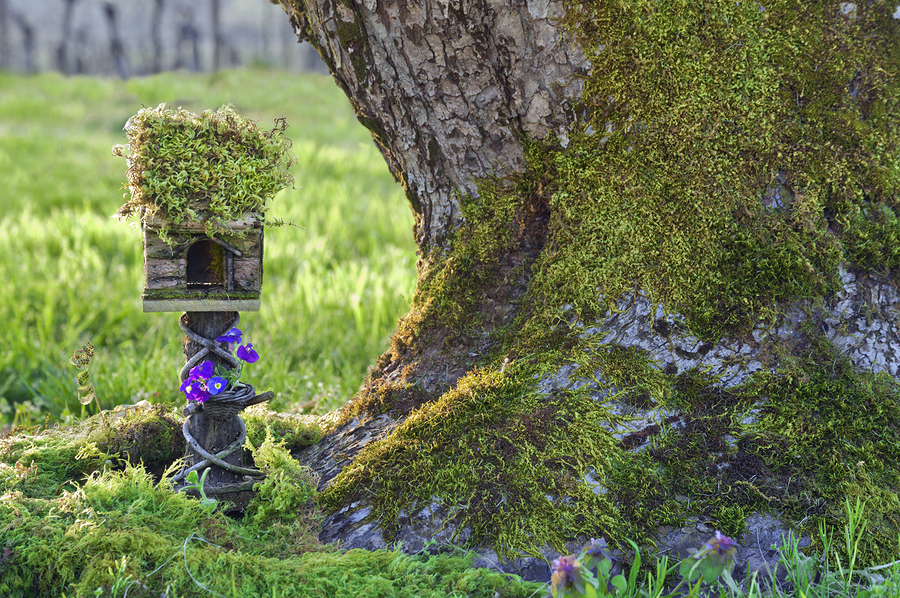 Putting together a fairy garden is a fun activity from which the kids will get a real thrill. It is all about decorating your own little miniature village with whimsical furniture that makes you feel as if you are living in a forest wonderland! Adults will love to revisit their childhood fantasies of chasing fairies and looking for woodland creatures that were so prominent in the movies. You can make just about anything your mind can envision.
You can buy kits to make your fairy garden or personalize your garden with handmade decorations. Here are a few ideas to help get your creative wheels turning.
Bench
Imagine your woodland creatures sitting on a bench set deep into the forest. You can make a bench out of some Popsicle sticks or use twigs. You will need some wood glue to bind the twigs or sticks together to form your bench and attach the legs.
Mushrooms
Pick up some drawer knobs and paint to make pretty mushrooms for your garden. Paint the knobs reds and add dots of white. Stand the knobs up to create whimsical mushrooms. You can choose any color you like to make your garden a little more personalized.
Fairy Houses
A little wood glue and small twigs are the perfect tools to build your fairies little homes. Paint the sticks if you want a colorful garden. Attach a small washer to some fishing line and hang it from one of your plants to create a tire swing for the inhabitants of the garden. Use small bolt nuts to create a shiny pathway to the front door of the home.
Wishing Well
Stack and glue some large bolt nuts together to create a wishing well. Surround the well with some pretty sand or pebbles. A small bit of wire can be used to create an arch over the well with a bucket made from a thimble attached.
Peat Moss
Peat moss is an excellent way to create ground cover in your garden. It is decorative and can help keep some of your more sensitive plants moist in between each watering. Your garden will likely include ferns and mosses that need to stay moist in order to give you that look of being deep in a forest.
Have fun with your garden and let your imagination run free. Visit Greenwood Hardware and spend some time browsing the aisles. You never know what your creative genius will come up with! Head into Greenwood Hardware to pick up knobs, paint, wood glue, washers and bolts, and wire, and don't forget to upcycle items currently around your house! Come on in, or contact us today.
Save
Save
Save